All about Teak wood used in Teak Patio Furniture Construction:

Teak wood is a hardwood tree from the southern and southeastern portion of Asia. Teak is tall evergreen tree. It has yellowish blonde to reddish brown wood. It attains the height of about 30 meter. It has bluish to white flowers. It produces the large leaf similar to the tobacco leaf. The bark is whitish gray in color. It is generally grown straight with uneven texture, medium luster and the oily feel. The upper surface of the tree is rough to touch and the inner surface has hair. Teak wood is very special because of unique attributes it possesses, which makes it highly desirable as a material for use in Patio furniture manufacturing. Its timber qualities include attractiveness in color and grain, durability, lightness with strength, ease of seasoning without splitting and cracking, ease of working and carving, resistance to termite, fungus, and weathering, etc.

First, as a hardwood, teak wood is very strong and extremely durable, yet when properly treated is also flexible enough to avoid splitting or warping.
Second, it grows in large parts of southern Asia and isn't a rainforest tree, so teak wood can be harvested in large quantities without provoking serious environmental consequences.
The greatest attribute of teak wood is the natural Teak Oil it possesses. The oils in teak wood make the wood – and anything produced from it – resistant to water, sun, wind, and most other weathering conditions. These oils remain in the teak wood even after it is cut and shaped, so that the natural protection passes to furniture and flooring even years after construction.
Its timber qualities include attractiveness in color and grain, durability, lightness with strength, ease of seasoning without splitting and cracking, ease of working and carving, resistance to termite, fungus, and weathering, etc.
Because of the highly useful attributes of teak wood, it has been used to make furniture and equipment in Asia for centuries. Nautical items such as boats and docks were and still are particularly common. Patio Outdoor furniture has become a favorite use for teak wood. Not only is it attractive normally, but as it ages teak wood changes color. As the wood ages or weathers the oils in the wood change, which gives the wood a silvery gray patina? This unique look of aged teak wood has become very desirable in certain circles, including an antique style called Dutch Modern, which focuses on furniture made in the 1950's and 60's and which is highly collectable today.
Cultivated Teak wood for future use: Demand for teak wood, both today and in the past, would have created serious problems of supply with many other types of wood. Fortunately, teak wood is quite plentiful because large plantations were started in early 1950s in Indonesia and India to ensure that demand can be met. Teak wood is also not indigenous to rainforests, so it can be harvested on a large scale without fear of sever environmental consequences to these vulnerable areas. These factors, combined with the natural attributes of the wood, make teak wood a fine choice for furniture, flooring, or other items you may wish to purchase.

Things to watch when buying Teak furniture:
If you do buy an item or piece of furniture made of teak wood, there are a few things to keep in mind. First, teak wood is so durable and strong that it is likely to last your entire life without wearing down and needing replacing. Any piece made of teak wood that you buy will thus be with you for a long time. Make sure you like what you're purchasing enough to keep it around for decades. Next, teak wood will look different as it ages. If you want the standard brown look, young-growth teak wood is fine. If you want the silvery patina look, however, you'll need to search out either items made from old-growth wood or an antique piece. Finally, younger teak wood is not as strong and durable as older wood, and it does not offer the same degree of water and weather protection. The more a teak tree matures the stronger and more protective its wood becomes. As most trees from teak plantations are cut before they can fully mature, most items made of teak wood do not offer as much protection as antique items. If you want and are willing to pay for the best quality items, search for what you're looking for in a highly graded old-growth teak wood. Older teak wood be golden to darker color where as younger tree teak wood would be much lighter almost whitish in color. My personal suggestion--- just avoid buying Outdoor furniture made of younger wood; indoor furniture made of younger wood should be fine as long as its properly dried prior to construction.
Also teak from wetter sites is usually darker in color ie Central Java teak wood is darker compared to wood from drier areas. It is known that teak grows well under warm and humid conditions.
Advantages or Teak Furniture Over other Outdoor furniture woods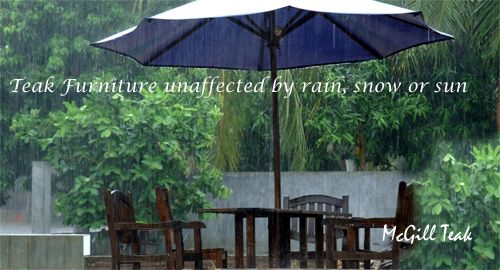 Teak Advantage #1 – Durable and Strong
Teak has many advantages over other materials used to make patio furniture. The first and most significant advantage is that teak is a strong, durable and beautiful hardwood from India, Indonesia, or Burma or. This exotic material was first used in the Middle Ages as a shipbuilding material, so it had to be strong to endure the long trips.

Teak Advantage #2 – Waterproof
After ships were decommissioned, the boats made with teak material were still salvageable, since teak did not rot or rust, even when joined with metal. This is one of the reasons that teak is such a great material used to make garden furniture. So, if teak could survive long trips on the harsh ocean, imagine how well it will stand up in your garden—without rusting or rotting! These waterproofing advantages are what make teak Patio furniture an exceptional choice for your garden furniture.

Teak Advantage #3 – Low Maintenance
Patio furniture can be extremely high maintenance. Some materials attract dirt and grime more than others – not teak. Teak, on the other hand, is a very low maintenance, making teak Patio furniture a great buy. So, if you're looking for a low maintenance material for your garden furniture, teak is the way to go.
Teak Advantage #4 – Long-lasting
Since most people can't afford to buy new garden furniture each year, another distinct advantage of teak garden furniture over garden furniture made from other materials is that it is extremely long-lasting. Teak garden furniture is so strong that it can stand the test of time, making it extremely cost-effective. It's environmentally friendly to buy Patio furniture which would last long time rather than buying every other year and cut lot of trees.
Teak Advantage #5 – Stylish
If you're looking for sleek and stylish Patio furniture, look no further than McGillTeak® garden furniture. To keep teak's original color, all you have to do is use teak oil annually. Or, if you prefer, allow the color to change naturally over time. With so many finish choices, there is sure to be at least one shade and style to suit your garden furniture needs.
If you're anxiously awaiting the warm weather season and especially looking forward to purchasing teak garden furniture, don't forget the advantages that teak has over any other material—you won't be disappointed. Durable and strong, waterproof, low maintenance, long-lasting and stylish, McGillTeak® garden furniture should be your first choice when you shop for Patio furniture.